Grimm's Small Stacking Tower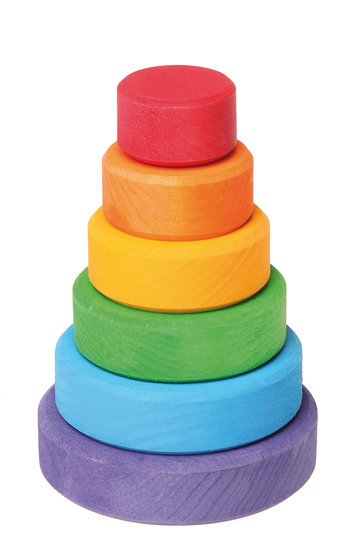 Listed in: Wooden toys
Grimm's Small Stacking Tower
$38.90 (inc GST) AUD
Code: St013
Product dimensions: Conical tower measures 13.2cm H x 8cm diameter (at the base)
Children love stacking and the colours and size of this stacking tower will make this toy an enduring favourite. This hand-painted educational toy is helpful in learning the correct order of ring size. The simple design and bold colours allow children to be immersed in reasoning and creative thinking while developing motor skills and hand-eye coordination.
Inspired by the educational philosophies of Rudolf Steiner, Grimm's is about creativity, and the imagination. Lovingly hand-painted, the puzzles and building sets are gorgeous, and also work as décor pieces for a beautiful home. We love it because there are no instructions, and you can do no wrong with a Grimm's toy. Just play, learn, and enjoy.
Handmade from lime wood and finished with non-toxic water based colour and plant based oil finish. All Grimms toys come minimally packaged in clear shrink wrap for minimal impact on the environment.
Designed in Germany and handmade in Europe.