Blog
Mandala Art- Creating Waste Into Art.....Caring For The Environment In Which We Live
Mandala Art- Creating Waste Into Art.....Caring For The Environment In Which We Live
Wed, 14th Jun 2017
Do you collect bottle top lids? What do you do with them? Here's what we did with our collection...
The children and families have been saving, collecting and bringing in their bottle top lids from home since the beginning of the year at Sorrento preschool.We have a huge collection. My intention from the very start was to transform waste into beautiful Art in our continual message for sustainability. I've always been inspired by the philosophy of the REMIDA project in Italy. It is an amazing approach to waste materials. REMIDA collect from two hundred companies and deliver them to all preschools and schools weekly for children's play and creative projects. They believe that the materials tell stories and are offered in an aesthetically pleasing way for children.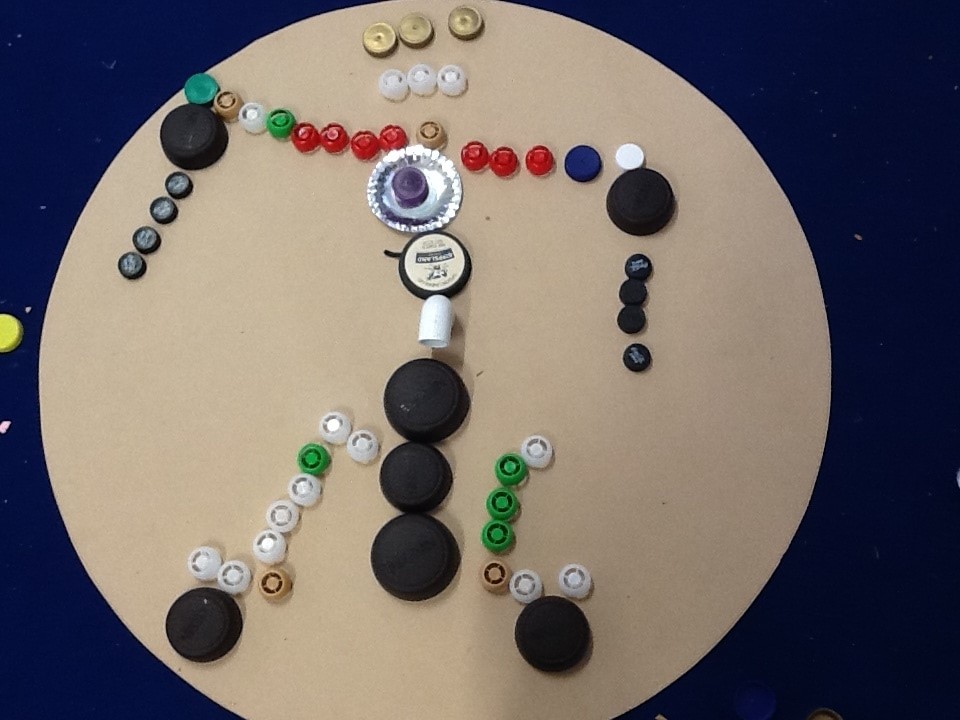 They are the focus of the children's daily activities. Every year in May, they organise a REMIDA day with a theme in the local towns to promote the possibilities of the waste materials. There is a REMIDA centre in Western Australia too which is encouraging!
I wanted to allow the idea of exactly WHAT to create to come from the children's interests so we allowed plenty of time for this to evolve.
From the start of the year, the bottle tops were on offer in the learning program as loose parts for sorting and manipulating in their own ways. Inviting surfaces (such as a smooth circular shaped piece of MDF on the floor) was one surface provided for children to explore with moveable pattern making, free image making with the collections. It's natural for children to sort and classify objects when they are presented to them and it provides opportunities for mathematical thinking. Simple objects can be enchanting and challenging for children if we allow them time to explore. Here a small group of boys, were designing a monster face with the lids. The lids were available for playing with every session, whilst the collections grew.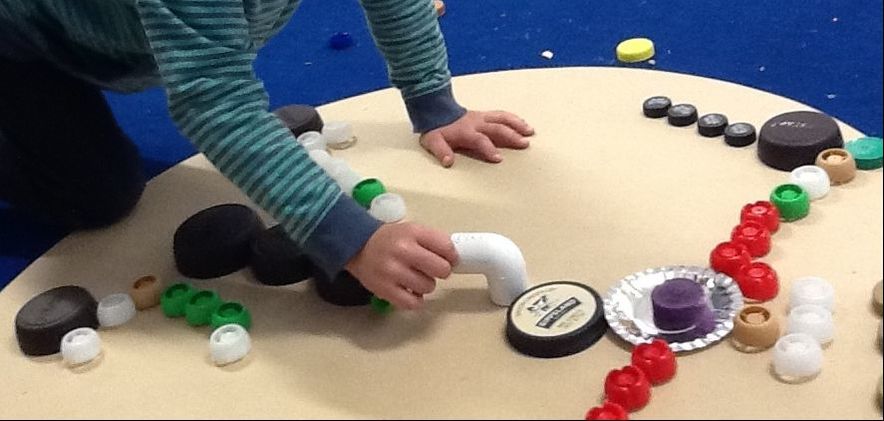 Meanwhile...(stay tuned it's all linked)...following on from Nature play week (an annual national program by Kids In Nature Network that celebrates events and initiatives that reconnect kids with nature and the outdoors) in term two, we gave children a project. They were to look for and collect a nature items beginning with the first letter of their name then bring them to kinder. This ignited children's interests in noticing and looking deeper at small nature treasures from around the preschool garden and their homes. They were really observing all the natural colours, textures and shapes in them. A deeper appreciation and love of nature and our precious earth was evident throughout the group. Of course, lots of discussions were taking place about leaving plenty of nature items for the animals and insects food and homes.
One day, this little girl brought in her collection of shells in a special box and she noticed the spiral shapes in the shells.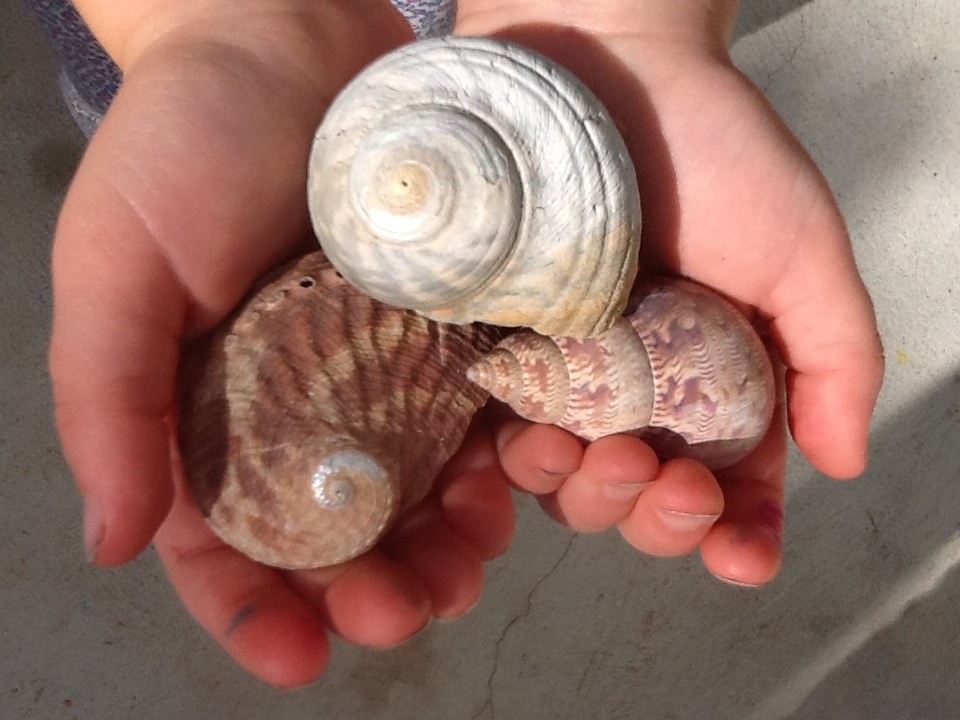 So we drew spirals ...children were now looking for spirals in every day things...
The spiral shells gave us the wonderful starting point for creating an art piece with the bottle tops for a permanent installation: arranging them in a visually aesthetic way. Designing a mandala in a spiral shape just like in the natural shells! Super tac is a wonderful product for attaching all sorts of materials permanently.
So naturally, lots of exploring mandalas was planned in the program..
​through painting...
...through designing with loose parts on the light table

We discovered we could also make a mandala shape with our legs and feet..look at all our different and similar shades of skin...(love this photo!)
What if children added their little nature finds to our bottle top mandala? This would be a wonderful way of investigating manmade and natural materials and the effects they have on our world around us?
Children were coming to me fishing little nature treasures from their pockets, saying, "this is for the mandala". A tiny shell, a sparkly stone, a stripey leaf, a small soft feather. The children always save their yoghurt lids during snack time and pop them into the designated container we keep in our room.
​
The mandala was on offer everyday; sometimes indoors, sometimes outdoors, with a container of super tac glue for easy attachment of items by the children. Attachment with an icy pole stick is the best way to use this sticky glue. Parents were invited to contribute in attaching items to it too throughout the duration of the making... (which they did)!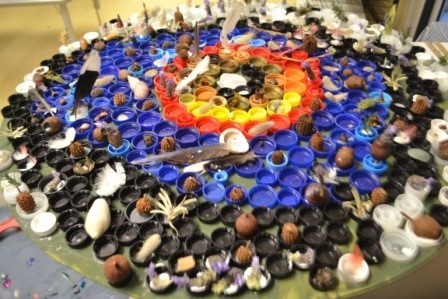 Our centre is also taking our first steps in its journey toward our own Reconciliation Action plan. We are fortunate to have a team member to share her own understandings from her Aboriginal heritage regularly with all the groups of children. During reconciliation week, she read the 'Story 'Welcome To Country' and concluded by offering each child a gum leaf from our kinder garden. She said to the children, "Welcome to Country. Have a safe passage" and explained that in accepting the leaf they were agreeing to follow the law of Bunjil in looking after people, children, elders, plants animals, rivers and sea.
Children & teachers were invited to paint their leaf afterwards using earth colours using lines and symbols with local Aboriginal meanings. The painted leaves were attached to the mandala as a beautiful way to finish it off. We would love to hear what things you've done with bottle tops!!!