Clip Circuit Advanced Lab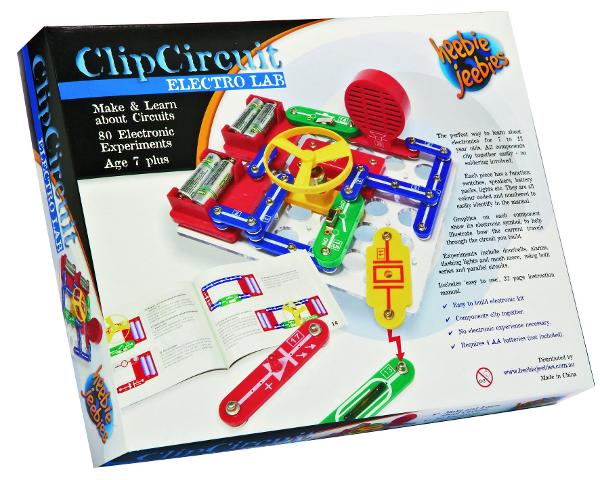 Listed in: Science and Nature
Clip Circuit Advanced Lab
$78.00 (inc GST) AUD
Code: Sn101
Teaching kids about electronics has never been so fun! This easy to construct kit comes with colour coded components that simply clip together that require no previous knowledge of electronics and no soldering. Once you have completed building the circuit board you can demonstrate your skills and watch as your circuit board lights up a flashing bulb, powers five different sounds and makes a motorized fan and flying disc rotate! During the building of your circuit, there are 180 experiments that are both fun and educational to help learn the basics of electronics.
This is the largest Clip Circuit kit that we stock. The well organised colour coded clips and components and the 43 page instruction manual provide easy to follow steps to complete the Clip Circuit Advanced Lab. the clip circuit has been completed you can experiment with powering. During the building and upon completion you will be able to conduct over 180 experiments that are all based on activating the circuits through switches, magnets, motor, water, touch, light and sound! To deepen your knowledge and to add the fun-factor to understanding electronics there are experiments in using these different forms of activation to switch on- a doorbell; an LED light; a lamp; music and five different sounds. Or why not combine the lights and sounds together by following the manual or challenge yourself to go it alone and create your own circuit!
Included in the 35 piece kit are the clips, components, board and motor required to complete the circuit board. Accompanying this is the 43 page instruction manual. Four AA batteries (not included) are required to power the motor.
Recommended for ages seven to 12. Adult supervision is required. Not suitable for children under three years of age.